OR: hot spring bike tour from Klamath Falls to Eugene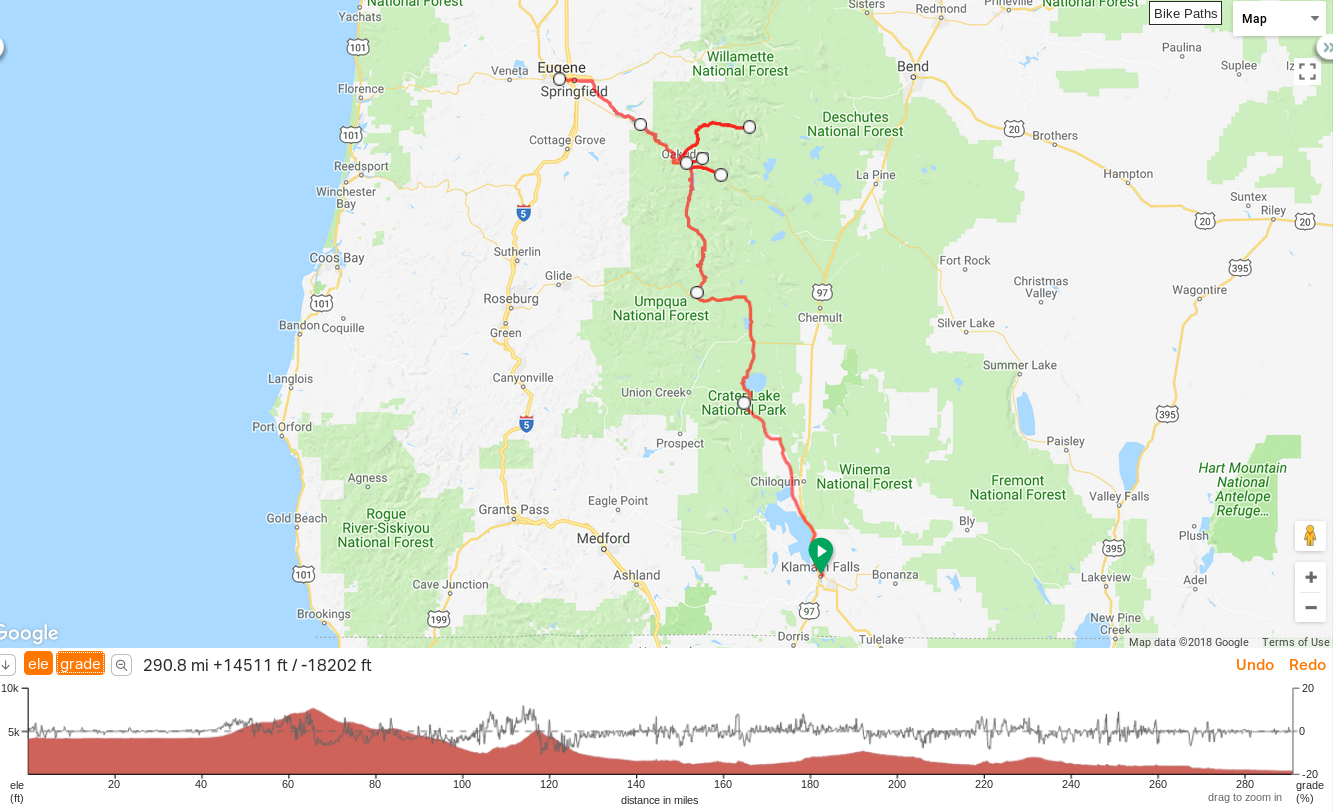 This is what we planned: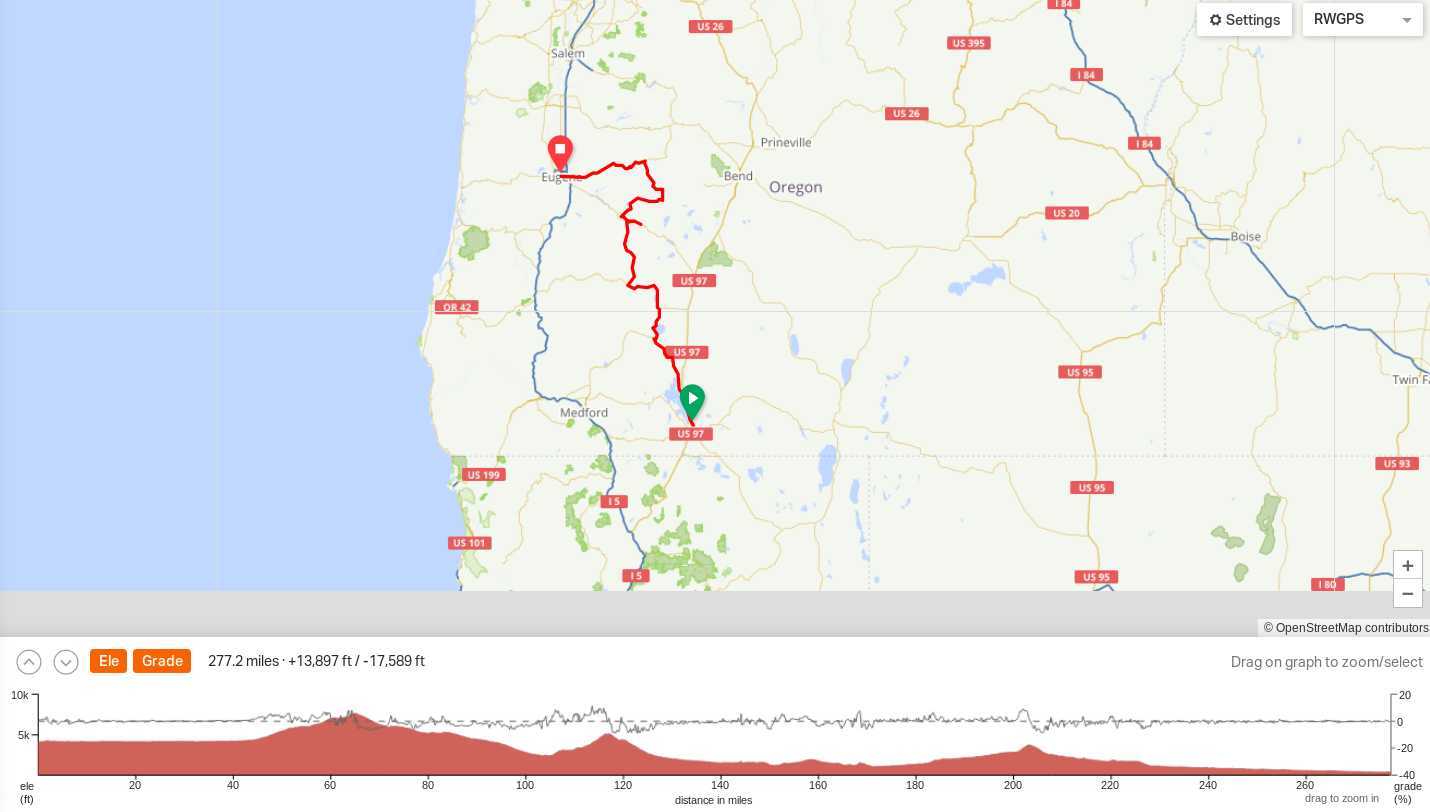 And this is what actually happened: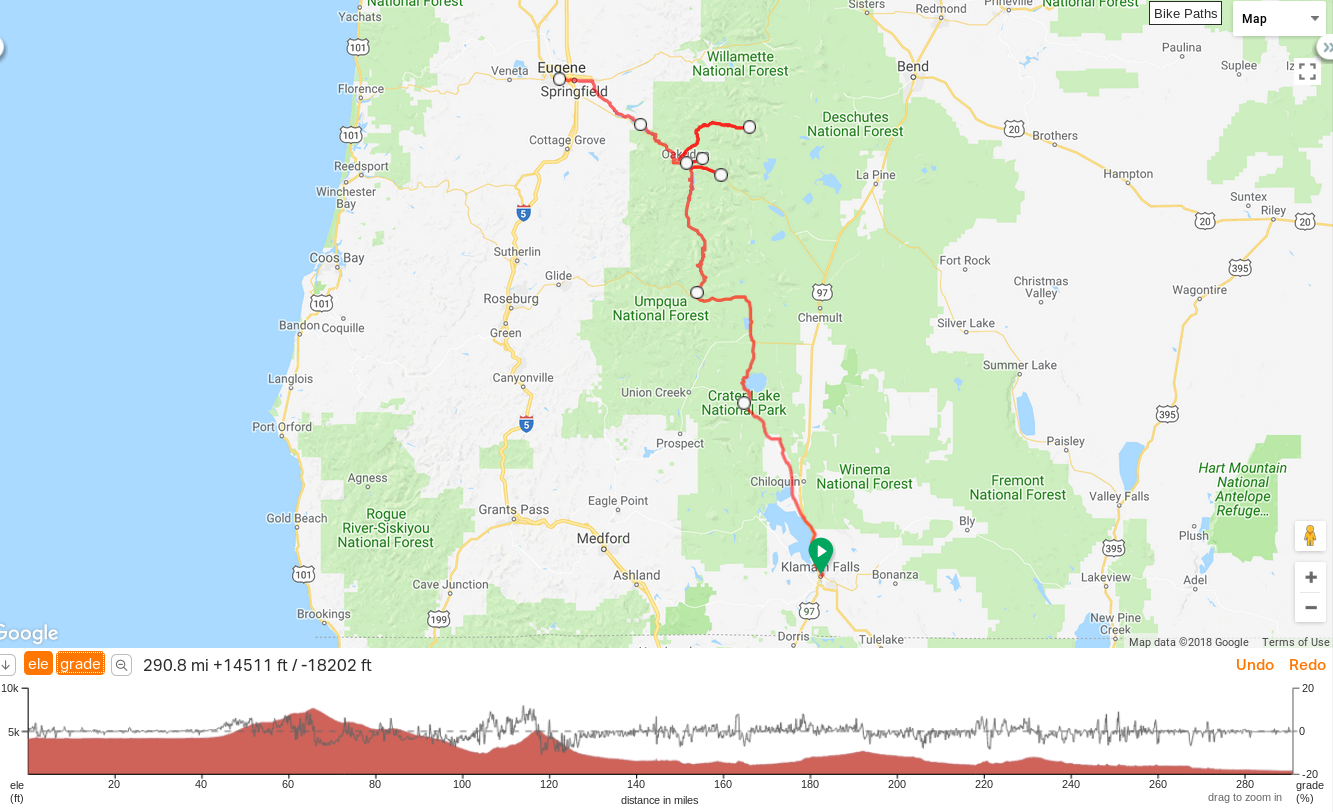 Forest fire started the day before we had planned to head to Cougar Hot Springs, so we had to follow an alternate plan.
I'll write more soon!
UPDATED on 2020-05-19
I can't believe it's been almost two years since I said "I'll write more soon!"!
A lot happened between this trip and now and I have lots of posts to write. But first, I'll try to write down as much as I can remember about this.
Our goal for this trip was to end most days at a hot spring to relax. There were a lot of forest fire during that summer. We knew this before we left, so we got some masks online. They weren't certified or anything, so I'm not sure if they did anything useful but I wore mine often.
Day 0: We took a train from Seattle to Klamath Falls – so nice not having to disassemble our bikes on these trains now – and spent a night at Klamath Falls.
Day 1 (~54 miles, 2100ft): We rode up to Mazama Campground. Some busy roads but because of the smoke, the traffic was manageable. This campground is like a village where all sorts of outdoor enthusiasts stay, including PCT hikers. We got some cider at the shop and had a lovely evening at a hiker/biker spot. No hot spring today.
Day 2 (~50 miles, 2200ft): We biked from Mazama Campground to Umpqua Hot Spring via Crater Lake. The lake was completely covered in smoke. People who'd been there kept telling me that it's normally SO blue and clear but it was hard to imagine that from what I was seeing. The climb up to the lake was a little hard and the roads are narrow.
The hot spring was pretty awesome! We stayed at Toketee Lake Campground and biked on a gravel trail to the trailhead. We then hiked up to the hot spring, which had many different soaking areas, including a couple caves (you have to use a rope to climb down a steep hill) with some bats. Someone there told us about the "third best water" in the U.S. that we could get near this hot spring, so we took a hike there afterwards. The water was indeed very, very good.
Day 3 (53.7 mi, 4170ft via NF road): We biked from Umpqua to Salmon Creek). This was the hardest day for me. We were not sure about this national forest road; OSM indicated a four-wheel river crossing but it turned out to be a culvert. The road was quite steep and filled with gravel – our back wheels kept slipping and every time we stopped, M got chased by yellow jackets, so we couldn't take very many breaks. Also, I got a flat at the top. When we finally got to a paved road, our faces just melted into smiles.
In Oakridge, we heard from someone about Salmon Creek, so we went there to stay. I believe we skipped the hot spring that day but instead jumped into the creek, which was very cold and refreshing.
Day 4 (~80 miles, 5341ft): Our original plan was to visit Cougar Hot Spring. We'd heard that there was some forest fire ahead but people told us that the road would be blocked already if it was dangerous. The road was not blocked, so we assumed that it was ok to keep going. We got passed by forest service cars three times and they didn't say anything, so we were convinced that it was ok to keep on climbing. But it wasn't. The air was again pretty smoky and when we were almost done with the climbing, one kind oncoming car stopped and told us that the road was in fact blocked and we couldn't get through….sigh. So we turned around and descended the entire way and decided to stay near McCreddie Hot Spring. This hot spring was big but shallow. Met some interesting people (e.g. a truck driver who visits this hot spring every month; a hiker who was planning a bike trip across North/South Americas).
Day 5: We decided to head to Eugene directly from Oakridge. We learned that Oakridge is a big mountain biking town and they recommended a dirt trail from Oakridge to Eugene, instead of Route 58, which is quite busy and stressful. Still traumatized from the gravel riding on Day 3, I was a little hesitant to take this trail but looking back, I feel like this was the best decision.
To celebrate our eventful adventure, we went to Ninkai Tap Room. They had a trivia night and we won a cup and headband!
~~~
I can't seem to find any pictures. I feel like I had a very old phone with a very short battery life, so maybe I took photos on M's phone? I'll check.