WA: Mt. Rainier Part III Climbing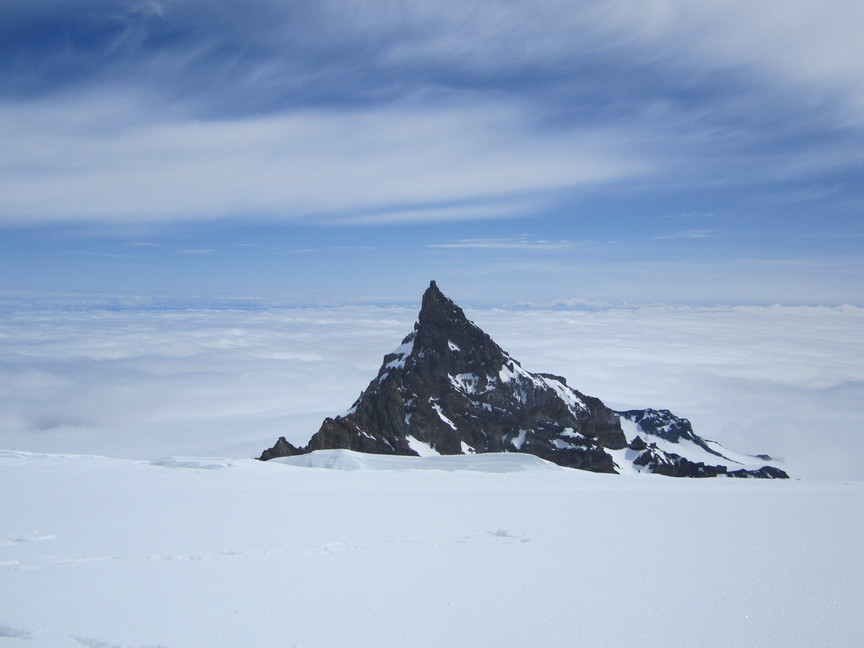 We spent the next two and half days on the mountain. Left Ashford around 8:30AM on Sunday and got back to Ashford around 2PM on Tuesday. You can see the itinerary here.
We were in the 5 day summit club, which meant we climbed to Camp Muir on the first day, climbed to/from Ingraham Flats on the second day, and (hopefully) climbed to the summit and then all the way back to Paradise on the third day.
Teams and guides
We had 18 student climbers led by 6 guides. We were divided into two equally sized groups. Our team was led by Bryan Mazaika, Hannah Smith, and Avery Parrinello. All guides are very experienced in mountaineering but the other group's leader, Brent Okita, had climber Mt Rainier over 530 times! Pretty amazing.
I was also relieved to see that half of the guides were women. There were much fewer female climbers in our group (five women) and while everyone was very nice, I was a little nervous about keeping up with all these big dudes.
When Bryan first told us that we "start with" 3 students/1 guide on a rope, I didn't quite understand the "start with" part. Then I learned that we sometimes need to rearrange the groups as some people may decide to head back before others during the climb. So, we sometimes had 1:1 or 2:1 ratios.
Pacing/activity level
I wasn't sure how fast "1000ft/hr" was but this turned out to be a pretty good pace for me. For some people, this was even too slow but this pacing, as well as hourly breaks, really helped me and I didn't run out of energy at any point. Some of us (including me) were not used to having this almost militant schedule (1 hour climb, 10 minute break, 1 hour climb etc) but it was good to know what to expect.
There were just a couple short but steep slopes to go up on the way up to Camp Muir. My feet were starting to have a hot spot on my left arch and I got some tape from Bryan on during the third break (we had four breaks total). I put duct tape on all potential hot spots before the summit bid and I really didn't have any problems on my feet (except for bruised toes – my big toes' nails both died during this climb and after 3 months, only half of the nails have grown back).
Sunday: Camp Muir
We climbed 4500ft/4.5 miles to Camp Muir in about 6.5 hours including four breaks. There were a couple short steep slopes during the last two miles but the pacing was right for me, so I was not exhausted when I got to Camp Muir. It was snowing almost the entire way, so we didn't see much. There were just a handful of other people (including another guide Dave Hahn from RMI) climbing and skiing on this route.
I wore just my merino wool baselayer and Ibex sweater on top and long underwear and soft-shell pants on the bottom. I also wore a fleece hat and my glacier gloves but then eventually I got hot and I took off the hat, gloves, and Ibex sweater. I think I wore my medium weight insulating layer at each stop to keep myself warm; Mako was wearing the parka.
As promised, we got above the clouds at Camp Muir eventually and it was beautiful!
The bunkhouse has three levels of shelves and with 18 people inside, it was plenty warm. I had a 0 degree sleeping bag but I became too hot at night. Only the water in my Nalgene reminded me how cold it actually was. The bunkhouse also has a "closet" where a couple of our guides slept. Other guides slept in this little hut where they boiled water for us.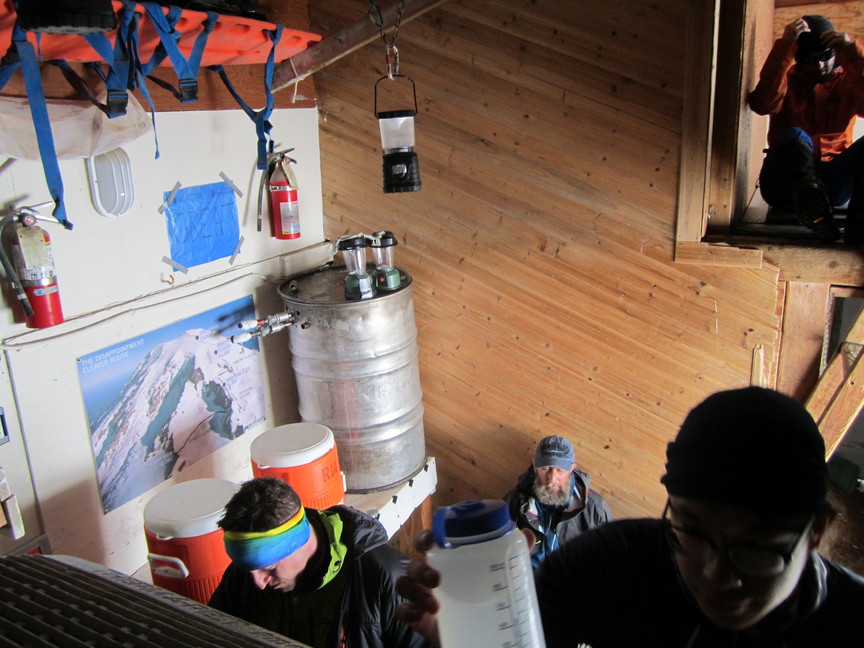 We were instructed to leave all sharp items (crampons, ice ax, trekking poles, snow shoes) and backpack outside.
We brought inside everything else, which were in garbage bags at this point to prevent them from getting wet. Once we brought stuff inside, we got water and dinner. We had plenty of cold and hot water. I tried to drink a lot of water on the first and second days on the mountain as I heard that dehydration may contribute to altitude sickness.
There were a couple other guides there who were not part of our teams but doing maintenance work at Camp Muir. We were the first summit team of the season, so there was much work to be done to get the campsite in shape. These guides also went with Brent on the second day to choose and create a route to the summit for us. Hard work!
Monday: "Rest" day
Monday was beautiful.
It's a "rest" day, which meant that we just walked up to Ingraham Flats. It took about 1 hour there and less than 1 hr back. We sat around and enjoy the view for about an hour while listening to a guide talking about wilderness medicine. She's been a wilderness medicine instructor for a while and is about to enter a medical school. It was pretty fun to hear crazy stories about what altitude sickness can do to us.
We were there for a while because a couple guides, Lydia and Avery, went up a bit further to make the path wider for us for our summit climb. While waiting, we saw Brent and two other guides come down from the top – and of course, Brent had summitted today already as he created the route. The weather was just about perfect; sunny, warm, no wind. I had a good feeling about the weather at this point and Brent told Bryan that we had a good route up to the summit. All good signs (at least so far).
We got back to Camp Muir, hang out outside for a bit, and got the summit talk by Brent around 4PM, had dinner around 5PM, and went to bed early. While we were outside, we noticed that the guides were talking to some of the students telling them that they may not make it to the summit. They would never tell clients that they couldn't go at all but they'd discourage us from trying to summit before the summit day.
During the summit talk, Brent told us about the general plan for the summit day. Our plan was to take the Ingraham Direct/Camp Comfort route. We'd take 3 breaks (Ingraham Flats, Camp Comfort, High Camp) before summitting. We needed to make decisions to go or return at each break but once we decided to go, we had to make it to the next break. Once we committed to continue at Camp Comfort, we had to summit (no return from High Camp). Our pack should have basically everything except for the sleeping bag. Don't forget glacier glasses (since we'd be leaving while it's dark, we'd be more prone to forget them). Lie down at 6PM. The weather forecast suggests that the wind might be picking up tomorrow.
One important advice we received during this talk was that we needed to poop ("squeeze one out") when we woke up because it's not pleasant to try to poop while we're summitting. In some cases, the guide would need to hold us while we poop if the slope is too steep and dangerous. The thought of that made me determined to follow his advice (though I failed). Also, we'd need to carry our poop in a blue bag until we come back to Camp Muir. Everything about this sounded horrendous.
And finally, what drove me crazy was that Brent wouldn't tell us at what time we'd be woken up! The reason was that he'd need to check the weather and decide when to go and also people might set the alarm earlier than when we are actually supposed to wake up, if we knew when we'd be leaving. That makes sense but I was pretty anxious at this point. I then remembered Bryan saying earlier in the day that we'd probably not leave until 4 or 5AM because it'd be too cold, which made me feel better when I woke up and couldn't go back to sleep around 9PM. I thought I'd still have 6-7 hours but I was wrong.
Tuesday: Summit Day
Brent came in with hot water around 12:15AM. He told us we needed to eat breakfast, use the bathroom, get dressed, and be outside to put on the crampons in 45 minutes. Those 45 minutes went by pretty quickly but everyone was ready to go within an hour. I got dressed and had my oatmeal. My bowel was completely asleep, so I had to risk having to use the blue bag.
It was time to go. Breezy. Very dark. Very awake.
The first part felt a little longer than yesterday but it was ok. We lost a few people at the first break at Ingraham Flats. Jake, Mako, and I were on Avery's rope until the second break and I think we all were feeling pretty good at this point. At Camp Comfort, quite a few people left and there were only six students left. At this point, I was feeling strong but also nervous because so many people left. Maybe they know something I don't. Maybe I'm not judging my ability correctly and should be leaving too.
But the break ended before I could really think through this, so now I was committed to the whole route to the summit. We reconfigured, so now Jake was on Bryan's rope and it was just me and Mako on Avery's. Brent, Megan, Bryan, and Avery led us from here on. The wind was definitely getting stronger but at this point, I was still optimistic about the weather. I really thought that it'd get better soon. I thought that once the sun rises, the wind might die down (which doesn't make sense).
The rain pants incident
I was wrong. Very wrong. The wind became even stronger. At the final break at High Break, my legs would shake involuntarily because it was so cold and windy. When Brent told us that he'd be keeping the big parka on (which we took off after each of the previous breaks), I decided that I should wear hard shell pants. This turned out to be the worst decision. My pants lacked a frontal zipper for the "caraweiner", which meant that the harness/rope started pulling my pants down while we were on the final ascent. The route had become icy and the gusts were now quite strong (later Brent estimated ~55mph), which meant I had to hold onto my ice ax tightly. It's really hard to hold up falling pants with just one arm, especially when I'm also being pushed around by strong gusts. I eventually started pulling my pants from the crotch to keep them from falling (which worked pretty well). I looked completely ridiculous and desperate. Mako was watching this whole ordeal from behind and we both thought it was hilarious after getting back to Ashford but at the moment, I seriously wished I had a third arm.
We kept on going and finally we saw the crater rim. At that point, Brent yelled that we should turn around. Avery turned around, pointed at a rock, and yelled "we summitted!"
There was no celebration on the summit. No time to sign the notebook. No time to walk over to Columbia crest. But I was completely satisfied.
After we descended for 5 minutes or so, Avery came up to me and helped me get the pants off. I felt like I was a child – not only could I not get my pants on or off myself, I could barely walk straight. Also, at one point, I dropped one of my medium weight gloves, which flew down the slope and disappeared in 3 seconds. I really didn't want to be that difficult client but I really was one during this part of the climb.
The only upside of this rain pant ordeal was that it kept me away from thinking too much about potential negative events that could have happened, like being knocked down by the wind and slide down the slope. I was not scared at all because my mind was almost 100% occupied by the falling pants near the summit.
Once the descent started, I became worried about not being able to keep up because I'm usually a very slow descender – in fact, our rope team was the slowest during the descent. We stopped at High Camp again since we didn't rest on the summit. We made another short break between High Camp and Ingraham Flats just to delayer. At this point, the sun was up and I was wearing glacier glasses but my breath had frozen inside the glasses and I could barely see anything (my eyes were actually experiencing a different issue at this point, which I didn't notice that until I got back on the van). Luckily, Mako was wearing all orange, so it was easy to follow him.
Our team actually didn't fall but I later heard that a few other teams had to do team-arrest multiple times as they descended. I need to work on my descent speed as I'm always very slow. We got back to Ingraham Flats and took a nice long break where Brent talked to us about what happened in the past couple hours. It was still windy but compared to the gusts earlier on, the wind felt quite nice. The sunscreen had frozen at this point and I had to warm the tube to squeeze out the cream at each break. We had time to take lots of photos at Ingraham Flats. I was very happy to be almost back at Camp Muir.
Back at Camp Muir, people greeted us warmly. We had an hour to eat, drink, pee, and pack. I forgot to delayer, so I was sweating quite a bit. I also didn't eat enough, so I became a little hangry towards the end. I tried to learn from others how to descend well but I was still pretty slow – I have no descending muscles since I'm a cyclist and we just coast when we descend. My legs were shaking from exhaustion whenever we stopped. We took one break and kept on pushing. The last mile was the hardest part of this whole journey for me. When I got to the parking lot, I drank almost a liter of water and stuffed myself with peanuts and chocolates as we waited for the van.
It's important to keep normal shoes in the van; most people wanted to take off their boots as soon as possible. All things considered, my feet did pretty well this time! I have a few bruised toes and a couple tiny blisters but otherwise, my feet were fine.
After we got back to Ashford, we hang out at the bar/grill. We talked about high and low points of the trip as we received our certificates: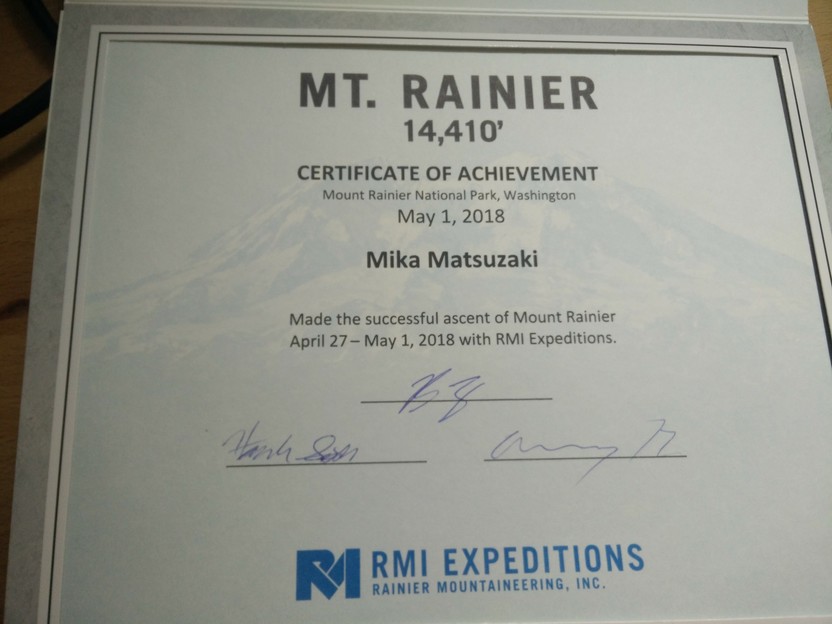 It was one of the most memorable experiences I've had in the past decade. I kept on thinking about this for several weeks. Even though the visibility was super low and I saw very little during the climb (I went back the next weekend with friends to climb up to Camp Muir when it was sunny and I felt like I had never been there), I am completely happy with this experience. I think I now have a healthy fear, along with enthusiasm, in mountaineering.