WA: Sorry, Rattlesnake! Day 2 Hyak to Yakima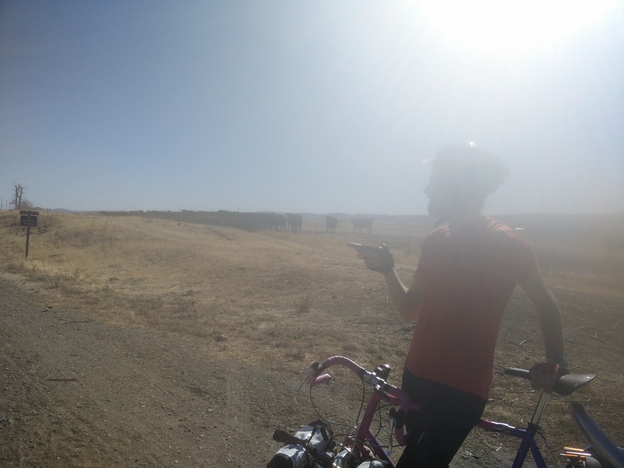 ~92 miles/751ft (Day 2 of our 5 day trip from Seattle to Portland via Yakima).
(Very few photos from Day 2 as we didn't have much time to stop.)
We initially planned to stay at the last primitive camping site on Iron Horse Trail before Easton but I was too slow on Day 1, so we stayed at the primitive campsite just outside Hyak.
Don't be deceived by maps: We had planned a long day for Day 2 because we saw this:
We both thought this was going to be a joyful ride – almost all downhill. And it was indeed mostly downhill.
BUT.
Gravel gravel gravel. My new nemesis by this point made it impossible to coast down the hill. We had to pedal hard to move forward. It was easier than the day before and we were going at about 8-10 mph but we were determined to get off the trail asap. But this didn't happen for a long time. We got off the trail once near South Clem Elem but then we saw a big hill coming, so we got back on the trail and rode on the thick gravel until Thorp.
Wild animals: We were biking hard near Bristol, trying not to lose balance on gravel. Ahead of me, I saw something that looked like a rat jump up under Mako's wheel. I was biking too close to Mako and I also ran over this poor animal – had I tried to avoid it, I probably would have lost balance and fallen. I asked Mako what that was and the response was:
"A rattlesnake!"
!!
Later in the day, we saw tons of run-over rattlesnakes on Canyon Rd but we did not expect to run over one on bikes. We are very sorry and hope that the rattlesnake survived and did not get mad at the horses that were riding a few hundred meters behind us.
Spectacular view on Canyon Rd: After Ellensberg, we had about 20 miles of spectacular canyon view on Canyon Rd. It's really great going in this direction since it is mostly downhill (on paved surface). The only tricky things were wind and apple trucks. During the summer, trucks are not allowed on this road, so biking between June 15 and September 15 should be more pleasant. Most drivers gently passed us but there was one apple truck that almost knocked me over because it was going very fast very close to me. Oh well. At least all apple trucks smelled *amazing*.
Sore butt: Forgot to mention that I had developed abrasion right on my sitbones over the first day. I think my bike underwear was the problem, rather than my saddle. I hear some people use butt butter. Bike shorts should be much better.
We got in late but the workers at Yakima Sportsman State Park were very nice and friendly. My only wish is that state parks would make biker/hiker space a little closer to restrooms. You also need to get a token at the entrance to use the shower at the park. I didn't shower for the first 3 days of this trip…
Also, there are a bunch of camping options on Canyon Rd as well, so that would have been a nice way to end Day 2 too.