WA: 3 day hiking in the Enchantments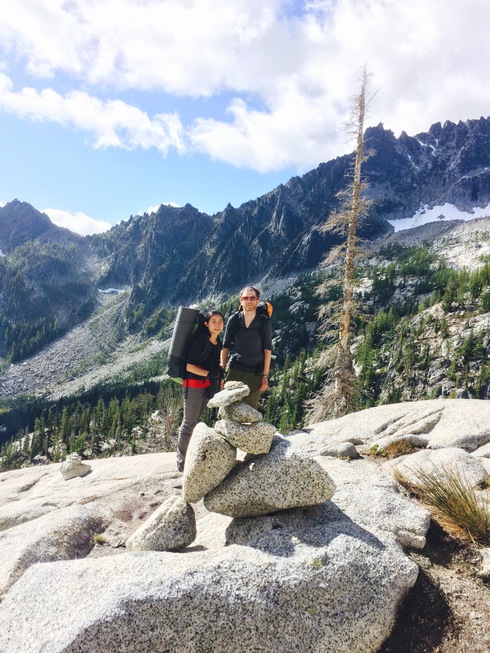 (This trip was done in 2016. I haven't been updating this blog very diligently…)
Our housemate won a lottery for overnight camping in the Enchantments last summer. During the summer season, camping in this area is only reserved for people who win this lottery, which happens in Feb/Mar every year. Our housemate was lucky to get one for the Labor Day weekend, so 8 of us hiked from the Snow Lake trailhead to the Stuart Zone trailhead via Core Enchantment/Colchuck Zone: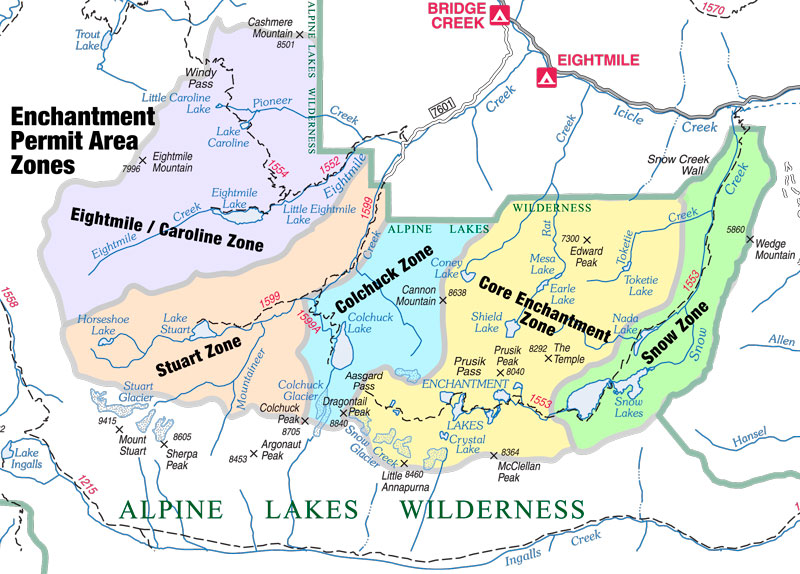 This was definitely the most amazing hike I've ever done! It's not easy – people get injured or die every few years – but many people do the whole route in one day, so it's not impossible. It's 18 miles long with 4500ft climb. I did see several young children and older people near the top, so it's not an impossible hike. As long as you're careful, it's doable. And the view is spectacular.
We had 2 cars, so we were able to park 1 car on each trailhead (i.e. both cars dropped off people at one trailhead, both cars with one driver each drove to the other trailhead, parked 1 car, drove back 1 car to the first trailhead); otherwise, you have to come to the same trailhead or hitchhike. I've heard that there's a $20 shuttle service but I don't know the details.
Our itinerary was:
Day 1: Drive out and hike up to the Snow Lake. Camp there.
Day 2: Hike up to the Core area and maybe check out Little Annapurna (we abandoned this plan when it started hailing). Camp in the Snow Lake again.
Day 3: Pack up and hike through Aasguard, Colchuck, and Stuart down to the parking lot. Drive home.
We camped in the Snow Lake zone. The Core Enchantments Zone is awesome but it's a popular area, so the chance of winning the lottery may be higher in other zones. Some things that I want to remember for future trips are:
* The hike up to the Snow Lake was long but not steep and well-marked and easy. The hard part started ~1 hour after our campsite.
* Some parts require light scrambling and with a heavy backpack, this was a little scary at times. Paths were not always marked well after the Snow Lake though there were many cairns.
* The campsite on the other tip of the Snow Lake seemed very nice. Also, camping in the Core seems amazing. There are many toilets with amazing views but some were full and overflowing when we were hiking through (which was supposed to get picked up by a helicopter soon), so that was gross. I wish there were ways to signal others that the toilets are being used…
* It rained a bit and I only brought a cheap poncho, which broke almost immediately. It rained (snowed/hailed too) on and off throughout the trip, so I was wet quite often. It got cold after the sunset, so brining sweaters and thick socks was important.
* Going up to the Core and down Aasgaarde was much harder. More scrambling. There was one part after Inspiration Lake, where we had to walked on a snowy/icy slope. The Aasgaarde Pass was long but I felt that it wasn't as scary as the parts before. We all slipped, slided, and fell a few times on the descent (one person broke his hiking poles) and we were descending very slowly but other than that, it didn't feel difficult. I feel that it's more difficult to go up from the other side.
* We saw someone tight-roping between two peaks near Aasgaarde…incredible.
* On the last day, we left the Snow Lake around 8-9AM and got to the parking log a little past 9, if I remember correctly.
* You may only pee in designated spots as mountain goats love and seek the salt in our pee.
* I wore my hiking boots and got bad blisters on my ankles, which didn't heal until after my bike trip to Pakistan…I should consider getting barefoot hiking shoes.
Someday, I'd like to thru-hike this route!