WA: Mt. Rainier Part I Preparation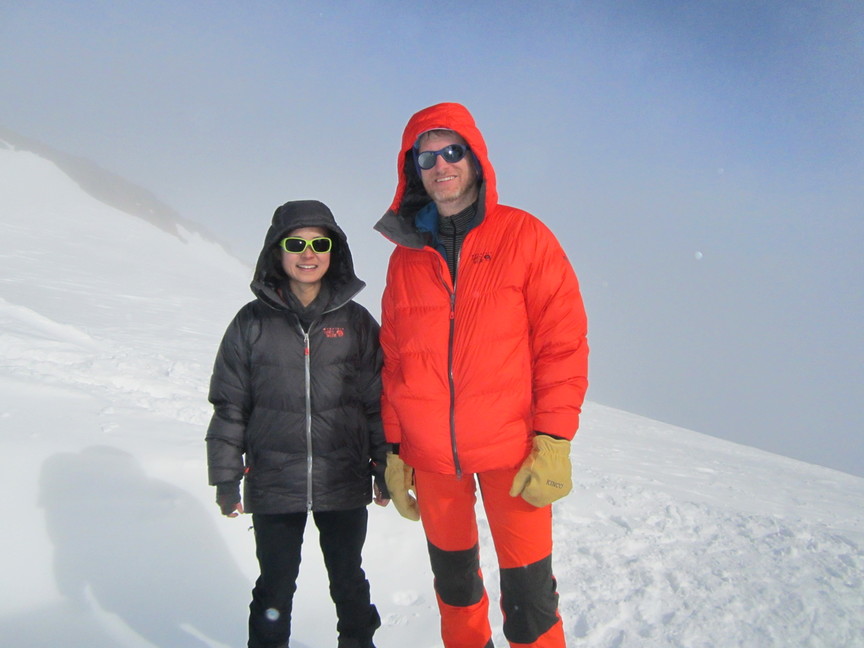 Mako and I climbed Mt. Rainier on May 1 with RMI Expeditions!
Gear
RMI has a gear list for each trip. We bought some gear earlier this year for classes with The Mountaineers and for climbing Mt. St Helens. For the Rainier climb, we rented from The Whittaker Mountaineering a harness, helmet, crampons, avalanche transceiver, heavy weight gloves, insulating layer (medium weight), and parka. The rental place and the bunkhouse are right next to RMI (they're all basically part of the same group), so it was pretty convenient.
I purchased all other items. Craigslist (not just local but all over the country), Ebay, and REI garage sales/outlet often had things I needed for reasonable prices. Items in my size (I'm pretty small – 5'3"/6.5US shoe size) were a little harder to find than items for men/in larger sizes.
* backpack: Zpack Arc Haul. I thought this pack may not be appropriate for this type of trips but it worked great! The only mistake was that we didn't attach the ice ax holders right, so our ice ax kept falling down during our descent. We were not able to find the instruction on how to attach these straps but we think this is how we're supposed to do it:
* ice ax: Pretzels Summit 52cm.
* warm hat: Outdoor Research fleece beanie
* baselayers: Uniqlo Heattech shirt (extra warm), Merino Wool long-sleeve shirt, Ibex sweater (no hood)
* hard shell jacket: Outdoor Research Aspire rain jacket (we washed and nikwaxed before the trip).
* light weight gloves: I doubled thin gloves (inner gloves of Dakine Sequoia) with icefishing gloves (Glacier Glove) for half of the climb on the summit day.
* medium weight gloves: Dakine Sequoia mittens
* underwear: REI wool underwear
* long underwear: Uniqlo winter tights
* climbing pants: Mountain Hardwear Sultana (I think?)
* hard shell pants: REI Talusphere full-zip pants – funny/pathetic story about these pants to be told in the next post.
* socks: I went with Darn Tough Hiker Boots socks. I thought about wearing wool liner socks and thick REI socks but in the end, the Darn Tough socks sufficiently kept my feet warm and comfortable.
* Vaseline: my skin gets dry easily, so I brought a tiny container of Vaseline to put before sunscreen.
* sunscreen: Neutrogena Ultra Sheer 100+
* chapstick: UV15+
* glacier glasses: Julbo MonteBianco. They're photochromatic. I got them on Craigslist.
* goggles: bought a pair at REI Garage sales. Didn't use them.
* water bottles: 2 Nalgene water bottles. In reality, I only needed one for each leg of the climb but it's good to have an extra.
* funnel (not on the list): It's not on the list but I think having a funnel for peeing is essential for women! It's so cold up there that you don't want to be exposing your butt to the air. I brought pstyle.
* glasses (not on the list): My eyesight is very bad, so just in case if something went wrong with my contact lenses – which actually happened – I brought glasses.
* boots: Koflach Degre. my feet are very difficult. I run into problems with any new shoes, not just mountaineering boots. I got blisters, bruises, and scrapes all over my feet when I rented Scarpa Inverno boots from UW for Mt St Helens, so I decided to buy my own boots well before this climb to get used to them. If you have small feet like me (US 6.5), it's very difficult to find plastic/double boots in this country. It seems that fewer options exist for women and people with small feet. I managed to find Koflach Degre in my size on Denver Craigslist (I arranged a USPS pickup) about 3 weeks before the trip, which was enough time to mold my feet into these boots before the climb. These boots were more comfortable than Inverno for my feet and I had few issues (after using duct tapes to prevent blisters). My feet were never cold during the ascent.
We have thorough gear checks during the orientation and if our guide found any of our gear to be inappropriate for the occasion, we could just rent them from the Whittaker or buy them at the shop. We had enough snowfall before the climb that we had to take snowshoes, which RMI let us rent for free. We had wet wipes and hand sanitizers but we didn't use them. The toilets at Camp Muir have hand sanitizers. I also had ear plugs but I didn't need them. Our best skill to bring on this trip was the ability to quickly fall asleep in a small musical bunkhouse.
Training/Physical preparation
As with all my previous experience with new adventure, I feel I should have trained more. In March and April, I read other people's blogs about how they trained for this Rainier trip. We biked regularly throughout the winter, which I think helped with endurance. My commute is 11 miles round-trip, so I had at least that much biking four times a week. One thing that biking doesn't train is the descent muscles (we just coast!), so that was a problem on the summit day when we had to descend 9000ft.
We climbed Mt St Helens about a month before the Rainier trip. That was a really good thing to do because 1) I got to practice using mountaineering boots, crampons, and an ice ax, 2) I learned that mountaineering boots could destroy my feet – I had a blister about the size of my fist on my arch along with numerous bruises, bumps, and scrapers around my ankles, and 3) I felt the need to start training harder.
I was worried about climbing with a heavy pack. RMI says 35-40lbs to Camp Muir, so two weeks before the trip, I walked to/from my work (5-6 miles each way) with 20-40lbs on my back for four days. 1 gallon water jugs were good things to use for this (except one of them leaked a bit when I put too much stuff inside).
I think my pack to Camp Muir was less than 35lbs; probably more like ~30lbs. But I was also wearing some of the equipment on my feet (i.e. boots, snowshoes), hands (trekking poles), and body (clothes). Weight wasn't really an issue for me but I still think it was good to practice carrying heavy packs. The person who gave us a ride to Ashford said that he trained on a StairMaster with a 75lb backpack! He was definitely one of the best/strongest climbers on our teams.
I also hiked up Mt. Wilson in LA a couple weeks before the trip. The hike was about 5500ft elevation gain/14 miles round trip but it was all dry. I wasn't carrying much weight either, so I tried to go fast and the total hike time was about 5.5 hours.
Mako and I also biked on San Juan Island and hiked in English Camp and to Point Caution from the Friday Harbor Lab. I wore my Koflach to get used to them. Mako did a lot more biking than me for a couple weeks on the island, which is quite hilly.
During the last week before the trip, I was more worried about getting injured, so I didn't do much. I biked up Pend Oreille at UW every day and pretended that I was training but I don't think that did anything.
Other than that, I tried to stop drinking coffee three weeks before the trip because I didn't want to have caffeine headaches on the mountain. I ended up drinking a bit of coffee during the last week before the trip. RMI actually told us that it's fine to have caffeine at high altitude, so we brought tea and caffeinated Nuun tablets. I also had less drinks than usual for three weeks because I read that muscle recovery and growth slows down if I drink after exercising but I don't know if that helped at all. Probably not.
A lot of our teammates seemed to have experienced altitude sickness. My pseudo-scientific belief is that our body remembers what it's like to be at high altitude for years. When I first went to Mexico City, I woke up with a headache every morning for about a week. By the second month, I was able to bike to Teotijuacan and back. A couple years after that, I was in Quito for a few months and I had no problem. A couple years after that, I biked through the Himalayas and I did not have trouble biking until I got to about 4300m. So, there's 0 scientific evidence to support this but I believe that my body remembers how to deal with thin air. I also took some iron supplements a couple times a week in April, which, if nothing else, made me feel better prepared.
Apart from regular biking, all our training was in the last month before the trip. I think I'd start a few months earlier next time, so that I have enough time to recover if I get injured.
Food
This was the most fun part of the preparation for me. RMI recommends that we eat 100-200kcal at each break, bring "normal food" like sandwiches and pizza whenever possible, bring things we like to eat (not just granola bars etc), and bring high-carb snacks. So, over the past couple months, I bought a lot of snacky food:
* honey peanuts
* seitan jerkey
* M&M peanut butter chocolate
* salted caramel chocolates
* cough drops (Ricola and Hall)
* peanut butter crackers
* peanut/almond/hazelnut butter packs
* Milano cookies
* sun-dried tomatoes
* English muffins
* sesame sticks
* almonds
* dates
* apricot
On the training day at Paradise, I took 2 pieces of pizza and some snacks. On the way up to Camp Muir and on the rest day, I had a gardenburger melt and fries, along with all the snacks listed above except for sesame sticks, almonds, dates, and apricots (which were Mako's snacks). On the summit day, I had a LOT of honey peanuts, M&Ms, seitan jerkey, and cookies and always put 1 candy in my mouth after each break. It turned out that as I finished licking a candy, we usually rolled into the next break. After getting back to Camp Muir, I didn't eat enough because I thought I'd be done soon but that was a mistake. I ran out of energy during the last couple miles.
For dinner (two nights):
* 1 cup instance rice + 1/2 block Japanese curry roux + freeze dried hot vegetable mix + freeze dried tofu
* 1/2 cup couscous + spices/salt + freeze dried hot vegetable mix + freeze dried tofu
* hot chocolate/tea
* Milano cookies
For breakfast:
* instant oatmeal packs (2/morning)
* Justin's peanut/almond/hazelnut butter
I had ~2500-3000kcal/day. RMI told us that we'd probably lose some appetite and our taste would change at higher altitudes, so I was expecting to lose some weight but alas. My gluttony easily overcame any effects altitudes might have had. I was ready to eat at every single break and my weight remained the same pre/post climb. Oh well.
I brought fancy salted chocolate caramel to savor on the summit but, as I explain in the next post, we had no time to celebrate when we reached the summit.
Miscellaneous
Weather
I checked the weather constantly during the last two weeks before the trip. It really doesn't matter since mountain weather changes so quickly and forecast is only 50/50 right according to our guide but nonetheless, I enjoyed reading the forecast. There are a bunch of links from the Mt Rainier Ranger's blog. I especially loved NOAA's discussion page. Even though the page looks dry and boring, the weather people occasionally insert funny comments there. I also looked at NWS forecast here and here. I felt like this website was the most pessimistic of all. In the end, we didn't know if we could summit until the night/morning of the summit day.
Ride
There is a discussion page where I could ask my teammates if they could give us a ride. Nobody responded when I made the post there but I contacted RMI and asked them to connect me to the other person who was coming from WA. This worked out well and we met in Tacoma to drive out to Ashford the day before the orientation day. We got a ride from a couple other people who were heading to the airport on the way back.
Ok, that's it for the prep. Onward to what happened on the mountain!