WA and Canada: Ride from Seattle to Vancouver and Party (RSVP) 2015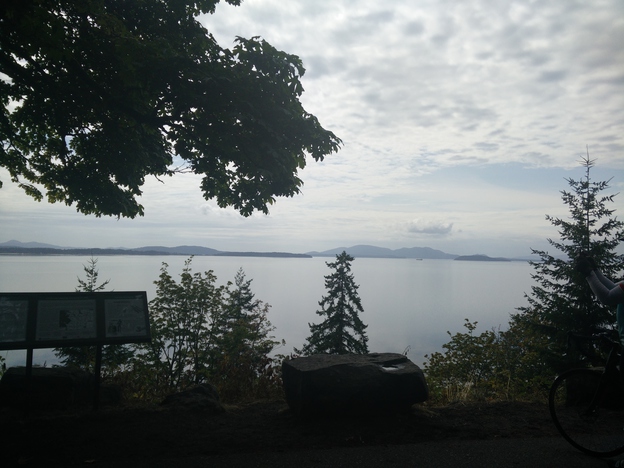 Day 1: 104.4 miles/3991ft climb + Day 2: 102.3 miles/3024ft climb.
The Cascade Bicycle Club organizes two multi-day supported rides every year: Seattle to Portland (STP) and Ride from Seattle to Vancouver and Party (RSVP). Our friends signed up for RSVP earlier in the summer and we decided to join them. It was long and hilly (for me) but not having to check my phone to figure out the route + not carrying my bags + being supported by professional mechanics were all great.
The routes are described in detail here.
Preparation
Training: I meant to train for the ride but I got busy (*lazy) and ended up doing just one long ride (96 miles) in early July. I was able to complete the ride but I do think I should have trained a lot more since my knees were hurting towards the end of Day 1. I was sore for 2 days after the ride.
That being said, this ride is not as terrible as people may think. It's not just for roadies; we saw older people, teenagers, a guy on a long board, a sweatless man in a button-down shirt…etc etc. There are some steep hills but it's not super long and totally fine to walk up. 100 miles is long but anybody who commutes on bike regularly and does ~50 mile rides 4-5 times a year should be able to do this ride. The more you train, the more comfortable you will be.
Stuff we brought
We each had 1 water bottle and a saddle bag with some candies and alien tool. This was a well-supported ride, so when my bike had problems, I was able to have a pro fix it along the way. I usually don't get very hungry while I'm biking and I got more than enough at the food stops. I also got my favorite gruyère cheese bread ♥ at Snohomish Bakery.
Route
When I go on a bike trip, I study my route VERY carefully to build flattest but still safe routes. I don't like biking up hills and I really don't like going down steep or long hills. RSVP sort of forced me out of my usual comfort zone. There were two notable hills (along with numerous other hills I would have avoided if I was alone):
1. After getting off Burke and before reaching 156th street in Woodinville, there was a long and fairly steep hill (or a series of hills). I knew that there was going to be a hill here but I did not expect this to be so long. I was on my wall-climbing gears and I was still panting like a couch potato on Chomolungma towards the end.
2. I'm sort of glad that I didn't know that the nickname for this hill is "The Wall". This is a shorter but very steep hill right before the first food stop in Canada. It was hard. (There was actually another part on 0 Ave right after crossing the border that was quite steep – I didn't shift down in time, so I had to do switchbacks.)
And if you prefer to avoid the hills or bike shorter distance, you can almost always find an alternative route that fits your need better. Also, about 25 miles from Vancouver, there is a part where we had to ride on a busy wide street (maybe after Pitt River?). Even though there was a bike lane the entire way, Barnet Highway is indeed a highway (hilly too), so there are lots of fast cars that drove by. Neither street seemed very bike-friendly, compared to the rest of the route.
I could just follow other bikers almost the entire way but the organizing team actually marked every turn with an arrow (typically with an apple in WA and a maple leaf in Canada). We didn't realize this until Day 2.
Accommodation
We stayed in Western Washington University's dorm on Day 1, which was nice and clean. We stayed in an awesome Airbnb place on Day 2. Two restaurants I recommend in Vancouver are Kintaro and Nook – we decided to go for ramen this time.
Notes
Everyone's tolerance and energy flow are different. I start out weak but I feel stronger and more comfortable after 50-60 miles. The last hills (Chuckanut Road on Day 1 and Barnet Highway to downtown Vancouver on Day 2) were feared by many, both of which occur after 80 miles of biking. But for me, hills towards the beginning of the rides felt more difficult. I was even able to enjoy the scenery on Chuckanut and Barnet but that was not the case between mile 20 and 50 on each day. Everyone is different.
Most people were wearing spandex/cycling jersey (merino wool jersey is the best!), including myself, and riding light road bikes but neither of these is necessary. As long as the bike is a good fit for the rider, it doesn't matter what you ride. I rode my touring bike with a steel frame with 26 inch wheels with a dyanamo hub. Other than my saddle being too forward and causing butt and knee pain, this bike worked out well. We left around 6:45AM and got into the destination at 4:30 on Day 1 and 4 on Day 2.
After parking the bikes in basement, we took a shower (5 CAD or USD) to freshen up in the hotel. There's a sauna too. Both shower and beer were very much appreciated, especially after getting soaked in pouring rain on Day 1!
The ride back to UW for humans was fast; but not for bikes. The border agency decided to examine each bike as it'd be easy to transport stolen bikes along with hundreds of bikes. The bikes arrived 2 hours after the riders did.