CA: Water, water nowhere: Hiking Cathedral Peak Trail in Santa Barbara, CA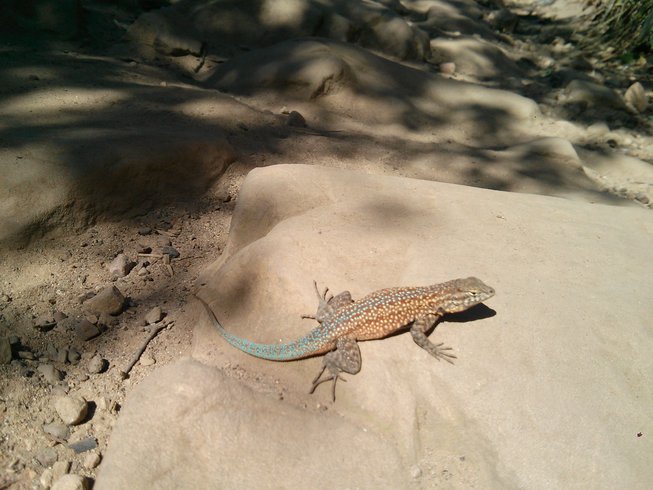 ~11 miles/~4000ft climb.
I attended a wedding hosted on Sage Hill Campground near Santa Barabara in mid April this year. We decided to hike from Santa Barbara to the campsite. The groom was kind to take our tent, sleeping bags and clothes on his car.
Here's a map for the hike up to E Camino Cielo here and down to Sage Hill Campground here.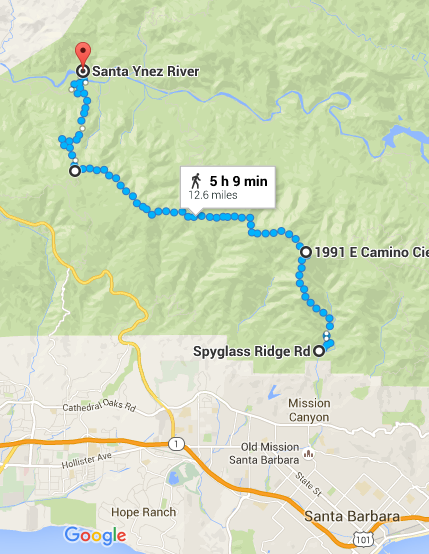 Plans
Day 0
Fly into Santa Barbara. Spend a night in Mission Canyon.
Day 1
Old plan: Walk on Arroyo Burro all the way to Paradise (!) Road.
New plan: Walk on Tunnel Trail to E. Camino Cielo. Hitchhike and go down on Matias Connector Trail or another trail down to the campsite.
New new plan: Walk on Tunnel Trail for a few miles and take Cathedral Peak Trail to E. Camino Cielo. Hitchhike and take Snyder Trail.
Preparation
We did a 6-7 mile hike to Mt. Constitution on Orcas Island in March.
I read on Santa Barabara Hikes and other forums/blog about Arroyo Burro extensively. Heat, ticks, and rattlesnakes seem to be common problems around here.
We brought:
* Lots of snacks (almonds, chocolate, candies, trail mix). We barely ate a third of it. DO NOT BRING CHOCOLATE. All melted in my backpack.
* 3L water for two of us. It was not super hot but it was sunny. We should have brought 4L but it was fine. ALL CREEKS WERE DRY – there was no way of getting water in the middle of the hike. Google Map should change the river/creek colors when there is no water there! I was deceived by all these blue lines…Plants were mostly bone dry and looked charred too.
* REI Northway Convertible Pants. Perfect for this hike.
* REI Flash 22 daypack. It's a great daypack for hiking in a dry place.
* Columbia PeakFreak low hike shoes. It's rare to find right shoes for my feet as I have bunions and flat feet but those worked out well. A little slippery when going downhill on a sandy path.
* Cascade Mountain Tech trekking poles. I brought those as I was afraid of stepping onto rattlesnakes. No rattlesnake encounter but it was good to have them when my legs were tired and had to walk downhill.
* Phones. My phone wasn't working at all, so we basically had just one phone for GPS tracking.
* Compass. Just a habit.
Notes
Cathedral Peak Trail was a great but tough hike! We knew that we had to hike up a mountain – which turned out to be a collection of rocky and steep hills – but didn't know that this trail was a scrambling path. I had never done a hike like this, so that was a rough introduction to scrambling. I'm glad that I did it and also survived. There were a few spots that were not kind to people with acrophobia. It took us about 10 hours to do mere 11 miles. Because most of the path is not easily accessible, I wanted to make sure that I didn't injure myself. I am very glad that I did the hike with another person, so that I could consult with him when the path wasn't clear.
The path was super dry. It was hard to find the trailhead because we didn't realize that Mission Creek was completely devoid of water and we were standing right in it. We actually walked on Jesuit Trail for a while before realizing we were on a wrong path. The trailhead for Cathedral Peak is narrow, steep, and not well marked but we met someone there who had done this hike before, so that made it easier. This person also said to stay on the right side of the "dragon's back", as it is more difficult on the left side.
The trail is somewhat well-marked. However, this is a scrambling path, so the marks are sometimes behind huge rocks and we didn't know if we were on the right path until after climbing over the rocks. The marks are either paint on rocks or ribbons on trees. We saw only a few people on this trail, so we had to be diligent about checking our GPS. We accidentally got off the trail at one point and had to throw down our backpacks and climb down a cliff to get back on the trail, which was soon followed by tons of bushwhacking in the valley as we got lost again.
Although the path was largely dry – so dry that the shrubs can cut my skin easily – we went through several different ecosystems. In the valley before the last ascent to La Cumbre Peak, there were trees with green leaves. For me, the last mile on this ascent was the hardest. I had to stop every 10 meters or so as I was out of breath. When I finally reached E. Camino Cielo, I was very, very happy. We walked for about a mile before finding a lady on a truck, who let us ride on the back of her truck to get to Snyder Trail.
Snyder Trail was a breeze. It was helpful to have trekking poles as my legs were tired and some parts were sandy and steep. We could see our destination(or a campground nearby perhaps) from Snyder Trail.
Evidently, there are sometimes notebooks in which you can write down your names on the summit on Cathedral Peak Trail but we didn't know about it and we didn't see any notebooks during the hike (they get removed occasionally).
The wedding was wonderful. Lots of refreshing beer and campfire. I was sore for 4-5 days afterwards. Next time, I'd bring more water, less food, and a better phone.